The Critical Role of Managers in creating Performance Excellence

In this 5th and final article in my series on performance excellence, I will explain how managers can put these concepts into action. To re-cap and expand on what we have covered:
First, come to terms with the fact that Performance Improvement is NOT a quick fix! While there are times you need to deal with destructive behaviour immediately, building a culture of performance excellence takes time. It takes commitment and specific, consistent actions. My first article focused on this notion of creating a culture of Performance Excellence.
Next, we looked at the need for action and applying the right techniques and tools consistently. The Performance Management Framework provides those tools and techniques to break down goals into specific, measurable targets. Managers must set goals for their business area, and break them down into specific, measurable targets for each employee. And then use this framework to evaluate and report on results.
My 3rd article focused on how Managers must clearly communicate expectations from each employee and provide appropriate methods for monitoring and evaluating results. Set targets that are challenging but achievable and provide employees with the resources and support they need to succeed. Demonstrate where and how they can improve, then coach and motivate them to success. And where appropriate, give them opportunities for growth and development.
In my 4rth article, I explained the role of Strategic Plans as the direction for Performance Excellence for your organization. While it's often misunderstood and under-utilized, the purpose of strategic planning is to establish superior performance. Managers need to be able to understand the strategic plan and are key in implementing strategic goals and initiatives. You need to be able to connect the higher level vision to each employee.
The Critical Role of Managers
I've mentioned in other articles that managers are in the middle of the organization. And that is a very important and challenging position! You play a critical role in connecting not only to your employees, but to senior executive. So in addition to all of the above, Managers need to be communicating effectively to very different audiences.
For example:
Employees need to understand how their work contributes to the vision and strategy of the organization. They need clear expectations for performance, feedback, coaching and motivation. And they need to see that their efforts matter.
Executive need to understand how the work of your business unit (and yourself!) contribute value to the organization. They need to see specific, relevant results. And you also need to be able to demonstrate your value to get the resources your team needs.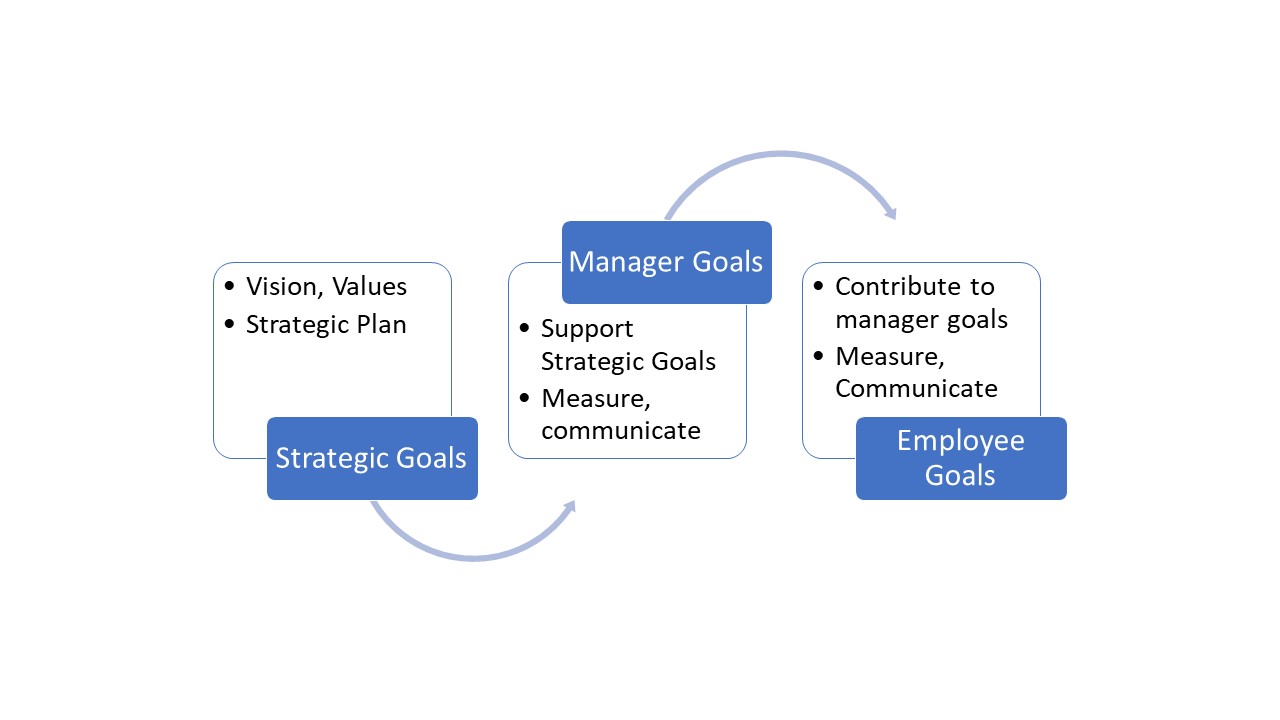 Summarizing my recipe for Performance Excellence for Managers:
Commit to a long-term approach for improving performance, and consistently set positive expectations for yourself and your team to create performance excellence.
Develop your skills in using performance management tools and techniques. Apply these on a consistent basis, setting challenging but achievable targets.
Work collaboratively with your employees to set expectations, coach and motivate them to higher levels of achievement.
Develop your skills in Strategic Planning and look for ways that you can support strategic initiatives to demonstrate greater value to your organization.
Build skills in Strategic Communication to develop an implement an effective communication strategy
Get Started with Building Your Skills for Performance Excellence
Check out our professional development courses for managers And please feel free to reach out to me with questions on what courses are best for you.
Debbie Narver BSc MBA MScIB